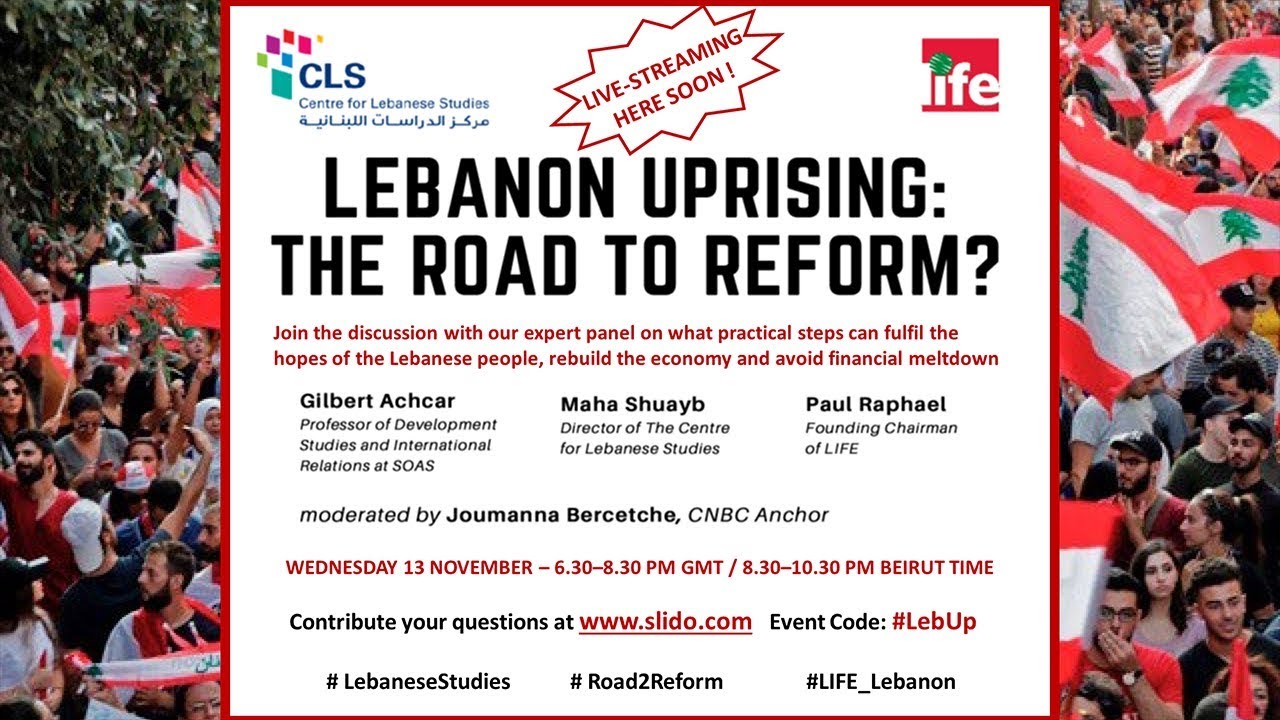 Lebanon Uprising - The Road to Reform?
***
How can the hopes of the Lebanese people for a less corrupt and less sectarian political system be fulfilled? What needs to be done to rebuild the economy and avoid financial meltdown?
Our expert panel will be debating around these themes and taking questions from the audience. We look forward to your participation in this critical and stimulating discussion about the future of Lebanon.
Panelists:
Gilbert Achcar: Professor of Development Studies and International Relations at SOAS
Maha Shuayb: Director of The Centre for Lebanese Studies
Paul Raphael: Founding Chairman of LIFE
Joumanna Bercetche: CNBC Anchor [moderator]
Biographies of our panelists:
Gilbert Achcar is Professor at SOAS. Before joining SOAS in 2007, he taught and/or researched in various universities and research centres in Beirut, Berlin and Paris. His many books include: The Clash of Barbarisms: The Making of the New World Disorder (2002, 2006); Perilous Power: The Middle East and U.S. Foreign Policy, co-authored with Noam Chomsky (2007, 2008); The Arabs and the Holocaust: The Arab-Israeli War of Narratives (2010); Marxism, Orientalism, Cosmopolitanism (2013); The People Want: A Radical Exploration of the Arab Uprising (2013); and Morbid Symptoms: Relapse in the Arab Uprising (2016).
Maha Shuayb is the Director of the Centre for Lebanese Studies (CLS) since 2012. Maha has a PhD in education from the University of Cambridge. Maha's research focuses on the sociology and politics of education particularly equity and equality in education and the implications of the politicisation of education particularly on marginalised groups in Lebanon and the Arab world. She is also a founding member of the Lebanese Association for History.
Paul Raphael is Executive Vice Chairman of UBS. He joined UBS in 2010 and acted most recently as Head of Wealth Management for Europe, Middle, East, Africa and Latin America where he managed $450 billion of client assets and over 3,000 employees across 4 continents. Previously, he held several senior Investment Banking roles at Credit Suisse, Merrill Lynch and Salomon Brothers across the US, Europe and Asia-Pacífic. Paul holds a B.A. in Economics from the University of Maryland and a Masters Degree in Finance from MIT. Paul is the founding Chairman of LIFE and current chair of the Promote Pillar, the policy arm of LIFE which recently published a paper containing a set of economic policy recommendations for Lebanon.
Joumanna Bercetche is anchor of the European edition of CNBC's Street Signs. She interviews CFOs and CEOs from across EMEA and reports live on key decisions taken by financial institutions across the world, such as the European Central Bank's and Bank of England's monetary policy decisions. She has also covered Italian elections, Spanish Catalunya events, Eurogroup meetings and moderated macroeconomic panels at the annual IMF and OECD conferences. She studied Economics as an undergraduate at the American University of Beirut where she was the recipient of the Penrose Award.