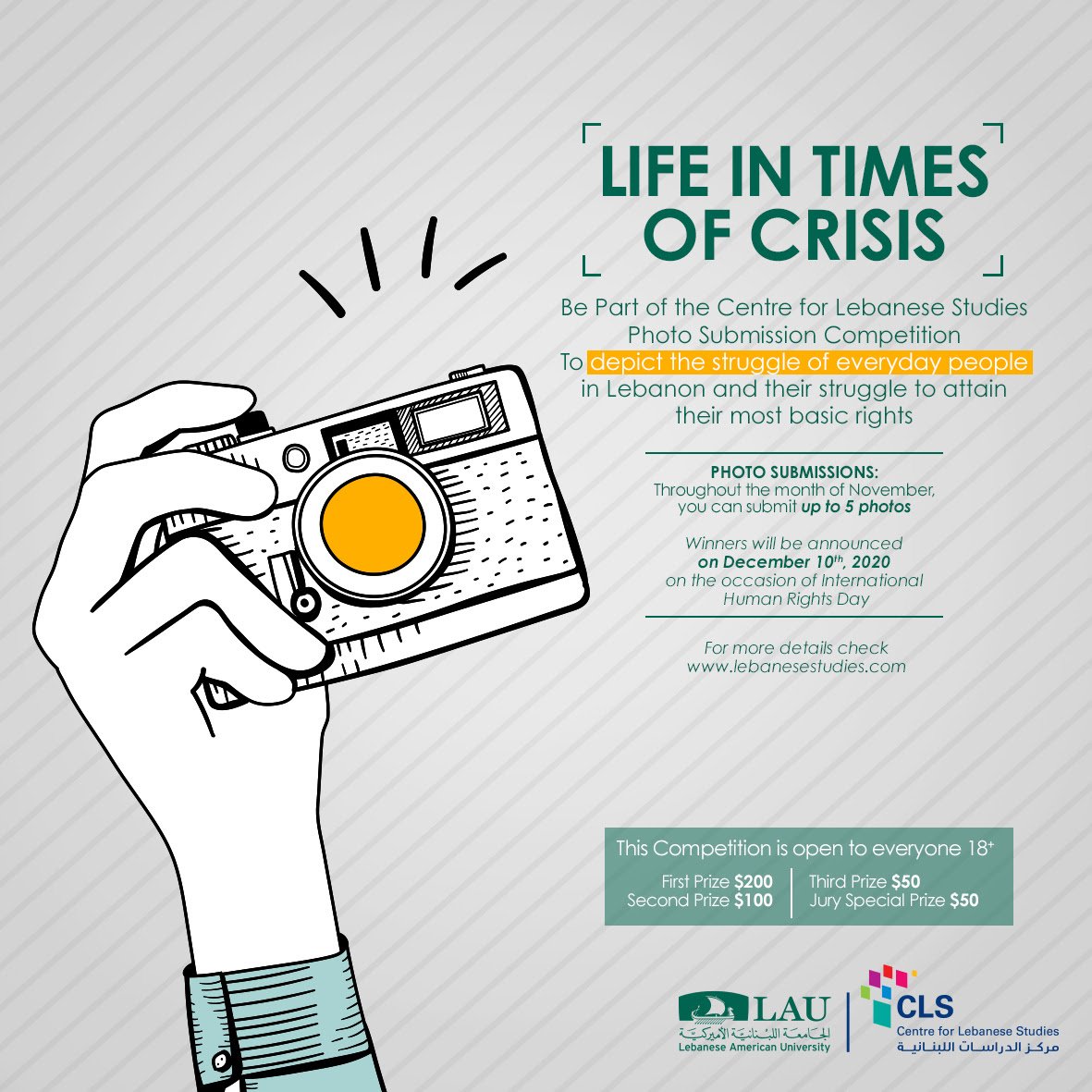 Life in Times of Crisis
Be Part of the Centre for Lebanese Studies "Photo Submission" Competition 
CLS is launching Depicting Life in Times of Crisis, a photo submission competition to commemorate International Human Rights Day, on December 10, 2020. Because we follow a participatory approach in our research, we are inviting amateur and professional photographers to send us their photos, have their work featured on our platforms and publications, contribute to raising awareness about the daily struggles of vulnerable person in Lebanon, and win valuable prizes. 
Whether you are a professional or non-professional photographer, over 18 years old, this is your chance! 
You can send up to 5 photos by November 30th according to the guidelines we list below. The top twenty photos will be selected by a jury based on pre-set criteria and announced on December 10, 2020 on International Human Rights Day adopted by the United Nations General Assembly in 1948 on the occasion of drafting the Universal Declaration of Human Rights. 
This call for submission is part of our ongoing research and advocacy to remind ourselves of the rights of society's most vulnerable including refugees, persons with disabilities, migrant workers, the elderly, among others, especially during these difficult times Lebanon is going through. 
Technical Guidelines
We are looking for photo content that challenges stereotype, embraces diversity, and reflects acts of survival, kindness, and action amid the crisis. 
Submissions must contain at least one photograph and accompanying text explaining the place, date, and what the photo is about (a few lines not to exceed 200 words).
-Photos can be in landscape or portrait format in color or black and white and the use of filters is allowed.
-Photos can be in JPEG-format, PNG-format, or BMP-format and minimum resolution of 1024x1024 pixels and should not exceed a maximum file size of 3MB each.
-All entries must be original works produced by the participant, and not have been published anywhere.
Selection Criteria
A four-person jury appointed by CLS will review and select the top 20 photos. The placement includes a winner, second place and third place, in addition to special jury prize. 
Submissions must be:
-On or before November 30th, 2020.
-Creative and relevant to the thematic focus.

Additionally, by checking the consent box on the submission form participants acknowledge and agree that they have received consent from photo subject(s) or their legal guardian(s) for all photos that include individuals. 
Participants consent allows CLS to use their photos in all publications, print or digital, with due credits.
Winning Entries and Prizes
All participants will receive an e-certificate of participation. For the 3 winners the cash prizes will be as follows:
First place: 200$
Second place: 100$
Third place: 50$
A special Jury prize will also be awarded for $50.
The winners will be notified by email within 3 days of selection. 

Winning entries will be posted on the CLS website and published on our social media platforms with reference to the participants' own website or social media accounts. 
Entrants shall note that by submitting an entry, they are agreeing that their photos will be used and credited, and their names, website or Instagram accounts will be disclosed. 
Entrants shall also note that by submitting a photo of a person(s) they are held responsible for getting consent from their subjects explicitly.  
This photo campaign is dedicated to the people of Lebanon today and their struggle to attain their most basic rights.