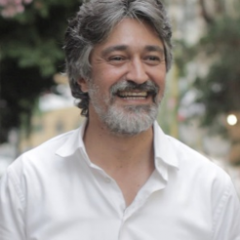 Gilbert is a founding and Managing Partner of Beyond Reform & Development (BRDI) Group, a mission-driven consulting firm working to establish innovative, inclusive, and participatory policies and institutions in the MENA region.
He is a founding partner of Beyond Consulting & Training, specialized in leadership and organizational development serving corporations across the MENA region. His is as well a consultant at Designed Learning USA.
He helped starting up a myriad of businesses including Effiqual Management Consultants in Canada, and recently Beyond Innovation and Technology specialized in digital transformation for governments and international development agencies.
He is a World Fellow (2008) at Yale University and a lecturer at Universite Saint Joseph in Beirut. He has published numerous articles on policy making, governance, and social entrepreneurship
He is sought after as a public speaker at a myriad of international conferences and his work has been featured in international media such as CNN, Huffington Post, and Stanford Social Innovation Review.
He is known for being a social entrepreneur and an activist serving on the boards of multiple NGOs such as the Center for Lebanese Studies, Injaz Lebanon and the Lebanese Association for Democratic Elections. He is a member of Beirut Madinati, former candidate in 2018 parliamentary elections in Beirut I as part of Libaladi Movement within the Ta7alof Watani Coalition lists.
Gilbert holds an MBA from Ecole Supérieure des Affaires (ESA), a Master in Advanced Management from Ecole Supérieure de Commerce (ESC) de Paris, a Bachelor degree in Business Administration, and another one in Community Organization.