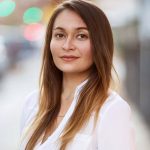 Jáfia Naftali Câmara is a Brazilian scholar and educator. She holds a PhD in Education from the University of Bristol with a thesis titled "Refugee youth and education: aspirations and obstacles in England" and an MA in Teaching English to Speakers of Other Languages from the New York University.
Câmara is currently a British Academy fellow at the Centre for Lebanese Studies and the University of Cambridge. She was a Research Assistant at the University of Bristol and ActionAid.
Her work uses an antiracist and anticolonial approach to young refugees' education, and explores how refugee learners, families and teachers can co-develop refugee-led research and engage critically with ethical challenges encountered during research. She has received multiple awards and grants, including the Volunteer of the Year Award from Jacari and the Bristol PLUS Award. She has published in both academic and non-academic publications including The Guardian, openDemocracy, and the Max Planck Institute.