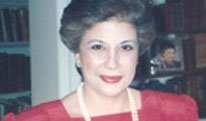 Born and educated in Beirut Leila Buheiry had a long career in banking, both commercial and investment, the last twenty years of which have been in private banking with Schroder Asseily and Co. Limited in London.
She is the co-author with her husband Marwan Buheiry, the first director of the CLS, two of the books in the Splendor Series: Splendor of Lebanon and Splendor of the Holy Land. In Lebanon she was a member of the Baalbeck Festival Committee for many years, and in the UK she was Chairman of the American University Alumni Association and is a member Board of Trustees of The Peace & Prosperity Trust, a charity to promote the exchange of culture between the West and the Middle East through the language of music.
She now has her own property management company which she established since she retired from banking.