In a disused hospital in Lebanon's Bekaa valley, three teenage refugees set to work on a robot. Despite intermittent power cuts and blazing summer temperatures, the team buckle down, sweaty and studious, to program the robot to pick up and stack a number of small cones. It is a task requiring skills in coding, engineering, maths and science – an assignment unlike anything they learned back home across the border.
"In Syria, we could only hope to work on something like robotics, with so much innovation, and here we actively can," says Weeam Salem, 17, who fled Damascus at dawn in 2014 by taxi with her family and nothing but a small backpack, after bombs began flattening her neighbourhood.
"People say to us, 'You're just kids, you're just refugees, you can't do stuff like that.' But I can, and I do."
Among the estimated 1.5 million Syrians living in Lebanon, roughly 300,000 of them are children who are out of school. Despite international pledges to provide a school place for every Syrian child, language barriers, prohibitive fees and lack of classroom space mean many children have never set foot in one, leaving them at risk of child labour and child marriage. Fewer than 3% of Syrians aged 15 to 18 are enrolled in secondary school, making them prime targets for radicalisation.
Salem, along with fellow students Ranim Allawi, 18, and Maher Alessawi, 17, are among the lucky ones. They attend school through the charity Multi Aid Programs (Maps), a grassroots network of nine schools providing for 3,500 Syrian children across Lebanon.
Founded by Syrian neurosurgeon Dr Fadi al-Halabi, Maps is hugely innovative: it offers classes under the Lebanese curriculum, so that students can transfer into Lebanese schools if given the opportunity, and it also gives jobs to Syrian teachers – now refugees themselves – albeit on a volunteer basis. (Under Lebanese labour laws, Syrians are severely restricted in the work they are legally able to undertake.) Halabi has also founded three medical centres, which rely on unpaid Syrian doctors and nurses to provide care to 15,000 Lebanese and Syrians across the Bekaa valley.
At a disused hospital that serves as Maps headquarters, former patient preparation and operation roomshave been turned into "innovation centres" where robotics, computer science, artificial intelligence (AI), and art and design are taught.
Salem's robotics teacher, Osama Shhadeh, 27, had just graduated from Damascus University with a degree in automation engineering and robotics when he was forced to flee to Lebanon. Within weeks of reaching the Bekaa valley, he responded to a Maps call for volunteer teachers in various fields. Two years on, he now teaches classes to students ranging in age from nine to 30. This year he helped the Hope of Syria robotics team win the coveted "inspire" award out of nearly 600 teams at the international VEX Worlds robotics competition in Louisville, Kentucky.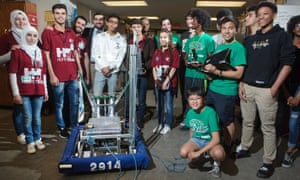 "We don't want to just teach kids how to read and write," says Halabi. "We need to create a new standard, a new approach to this humanitarian crisis. Seven years [after Syria's civil war began] refugees are still not recognised here. The main goal for us is to answer the question, how can I maintain my dignity for when, or if, I am able to return to Syria? Robotics helps us achieve dignity because it shows we are not 'just' Syrian refugees living in [a situation of] 'No, you can't work or be enrolled in school here, stay in your camp'. We can think beyond that."
Halabi's approach has struck a chord with academics and activists around the world. After Hope of Syria's first robotics competition in Kentucky in 2016, the team were invited to meet former president Barack Obama and have since visited the White House three times, showcasing their homemade robot Robogee to various members of Congress.
At University College London, the Institute of Education and the Institute for Global Prosperity want to work with Halabi to develop solutions to mass displacements around the world, using Lebanon – where one in every four people is a refugee, the highest ratio globally – as a testbed.
"Lebanon is a microcosm of the problems we have got all over the world," says Professor Henrietta Moore, who heads the Institute for Global Prosperity and co-founded the RELIEF Centre with partners at the American University of Beirut and the Centre for Lebanese Studies. Backed by the UK government's £1.5bn Global Challenges fund, which looks at the challenges faced by developing countries, the centre is investigating how to scale up the work Maps has initiated.
"We know that the average length of stay [for a displaced person] is 20 to 25 years," says Moore. "This fantasy that everyone will go home [after being displaced] is a fantasy everyone engages in. But our line is 'movement is the new normal': how do we prosper under this movement? How do we get young people involved in subjects crucial for the modern labour force – robotics, stem cell research, AI? What can we do to prepare young people for the future when of all the young people who are meant to be in school, only 3% are?"
For Salem and her mates, the classroom provides a critical window on to the world beyond the daily grind in the Bekaa valley, a dusty, fertile zone where white UNHCR tents are dotted haphazardly across the landscape along with wild lavender, Roman ruins and crops of cotton, wheat and marijuana.
"The day we moved into the basement of our apartment building in Damascus to avoid the bombs was the day my mother decided we had to leave," Salem says quietly, dressed in a peach hijab, dark jeans and flawlessly white Adidas.
"I have traumatic memories, of course. We are scared of things that would otherwise be normal: whenever I see a plane fly overhead, I think of the bombs dropping, and I react instinctively. As we were driving away, I looked back at our building and thought, 'I might never see my home again.'"
She looks down at her hands quickly. "But the upside is that it is safe here. I can go to school here. I like robotics because it is something I can work on in the future. Ultimately I want to go into chemical pharmaceuticals and invent medicines to save people. I would love to go back to Syria and save people like that."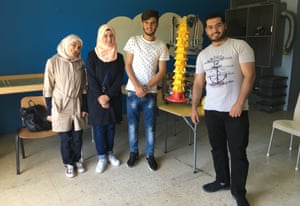 Ranim Allawi, 18, missed a full year of school in Damascus because it was too far and too dangerous for her to continue going. When her family fled to Lebanon, she missed more school. She is now enrolled in the Maps programme, which has altered her notion of learning, and hopes to be a computer engineer.
"My home was destroyed in the war. We try to keep ourselves busy so we don't think too much about it," she says. "I was the kind of person who always liked to work on my own. But robotics has really changed how I operate, it's taught me how to work in a team."
For Maher Alessawi, who leads the high school robotics team, Maps and its courses have provided a lifeline in a world that has at times been overwhelming and frightening.
"I came here with only the clothes on my back: everything I owned, all my books, all my games, anything a 15-year-old boy would have, I left behind," he says. "I found loneliness for the first time. Before I was introduced to robotics, I was in the streets every day, playing. Now I have a goal. Even though I always wanted to be an engineer, now I have a set path. I have travelled, I have been to Qatar and now twice to the US. I am captain of the robotics team."
Recently he went back to Syria. "It was totally different to how I remembered it. I would love to study at Harvard or George Washington University and keep doing robotics, because I love the mechanics of it, I like creating something."
Halabi laughs when he thinks about how far his students have come. In 2016 eight students – four boys and four girls – created the Hope of Syria team, learned their first bit of coding and programming and went on to win first place in a robotics competition in Lebanon. "It was a shock to the Lebanese team," he says, smiling. Hope of Syria went on to be invited to VEX Worlds, where they competed as the first Syrian team in an international robotics competition and won the judges' award.
"Some of these kids had lived in the [refugee] camps for three or four years and never been outside the camp. Then they're competing in the US. It shows them what they are capable of."
Salem blushes when asked about her future and sits up proudly. "The one thing I can tell you is that I now know anything is possible," she says.
"I am a refugee and, still, I can accomplish this. I can do it."
Source: The Guardian