"The CLS is a vital research organisation for scholars, journalists, writers and others around the world. Without it, much of the work on contemporary and historical Lebanon simply would cease to exist"
---
The Centre has achieved international recognition as a serious research institution and has been commissioned to undertake numerous research projects. It has collaborated with major universities and think-tanks as well as other research centres in the Middle East, Europe and the US. Its programmes have maintained a balance between academic rigour and policy orientation.
Current Projects
A Whole School Approach to Active Citizenship Education and Social Cohesion – Dr. Maha Shuayb
In 2009 the Centre launched a project aimed at piloting the impact of adopting a whole school approach to social cohesion and citizenship education on young people's political and civic attitudes.  In Lebanon, the current and most predominant approach to citizenship education relies on teaching civics one hour per week.  However, research showed that this approach has a limited effect in tackling sectarianism and developing young people's active citizenship skills. A survey of 900 Lebanese high school students conducted by the Centre for Lebanese Studies in 2009 revealed that sectarianism is heavily engrained amongst young Lebanese students. 64% would always trust Lebanese from their sect while a similar percentage would rarely or never trust Lebanese from other sects.
Although the consecutive governments placed a huge emphasis on citizenship education, the pedagogies currently implemented in many public schools are still didactic. The emphasis appears to be on acquiring knowledge while limited opportunities are provided to students to develop their civic skills.  Moreover, the undemocratic school environment contradicts the ethos taught in civic education.
This project aims to:
• Promote active citizenship education and behaviours by focusing on developing students' competencies, skills and attitudes.
• Foster a supportive, democratic, and cohesive school environment that encourages participation and empowers the whole school community.
• Assess and monitor the impact of this approach on young people's political, civic, and social attitudes, knowledge and skills.
For further information please contact Dr Maha Shuayb ([email protected])
---
Developing a critical and analytical understanding of history teaching in Lebanon
One of the few things that the majority of Lebanese from various spectrums of life seem to agree on is the urgency to develop a common History textbook, which will somehow unite the nation and solve the problem of confessionalism. There appears to be a conventional wisdom even amongst educationalists and intellectuals that by learning one version of history instead of the different textbooks currently taught in Lebanon, young people will somehow develop a common identity and a sense of unity and cohesion that supersedes their confessional identities.
Although, education including History education can play a role in addressing some of the causes that might lead to civil war, the current approach proposed in Lebanon suffers from several gaps. The passive and indoctrination approach contradicts the concept of education in democratic countries, and has also proved to be ineffective. Hence our study sought to adopt an inquiry based approach to History Teaching learning, which emphasises a critical and analytical pedagogy. Our hypothesis is that by developing these skills, students will be more able to challenge and critique the prejudices of their sectarian groups and understand and appreciate similarities and differences amongst groups.
Our study examined the impact of implementing two different approaches to history teaching on young students' retention of knowledge, motivation and engagement and understanding of historical concepts. The first approach is the traditional didactic one, which entails memorising the content and uses some of the textbooks currently taught in Lebanon by most schools. The other approach adopts an inquiry and skills-based approach. This pilot took place in two, grade eight classrooms in Lebanon.
For further information please contact Dr Maha Shuayb ([email protected])
---
Healing the Wounds of History Program
Lebanon is in a state that is neither war nor post-conflict. There is an overhanging threat of future violence combined with an uneasy relationship to the violence of the past. The strong sectarian and social identities that had made the wars psychologically possible are still active and transmuting, thereby further reducing trust and heightening fears.
For several generations, the lack of closure with regard to the civil wars and foreign invasions has had profound psychological and social effects. 'Turning over a new page' does not necessarily mean that grievances and memories have been fully acknowledged and addressed. The cycles of blame and revenge threaten to reignite violence, as competing victims do not take responsibility, but act from denial or blame, sharpened by fear The main objective of the program is to bring understanding and healing to address and heal the deeper roots of conflict. We believe that this is a key element in seeking to re-build relationships in a society that has long suffered from division and lack of trust between individuals and their communities.
We suggest that:
The causes for violence are rooted in recent but also older and even ancient historical grievances, memories and traumas. These psychological roots draw on perceived injustices, and become the sources of violence, especially in acute times of crisis, fear and threat. These driving forces usually remain unexamined. By unfolding and deconstructing them, individuals can begin to understand where these prejudices and impulses for violence against the other are rooted.
Memories of the past can keep conflict alive, consciously and unconsciously, which invoke the formation of certain sectarian and social identities. Individuals may feel that it is a betrayal of their 'identities' if they move away from these elements. It is through unearthing these deeply rooted identities that we can begin to reframe/rethink the "self", humanise the other and to improve relationships.
It is necessary to propose an onward route. The process requires that approaches to healing, reconciliation and forgiveness are formulated so that they are relevant to all parties concerned. Feasible proposals for developing grassroots skills and capacities are crucial for how this can be achieved. Developing capacities at the individual level would help in collective action and peace building efforts at the group level. These should be placed alongside political, social, economic, juridical and civil society endeavours.
This program was launched in Byblos, Lebanon in 11 of November 2011 with a three day international conference entitled: 'Healing the Wounds of History: Addressing the roots of violence".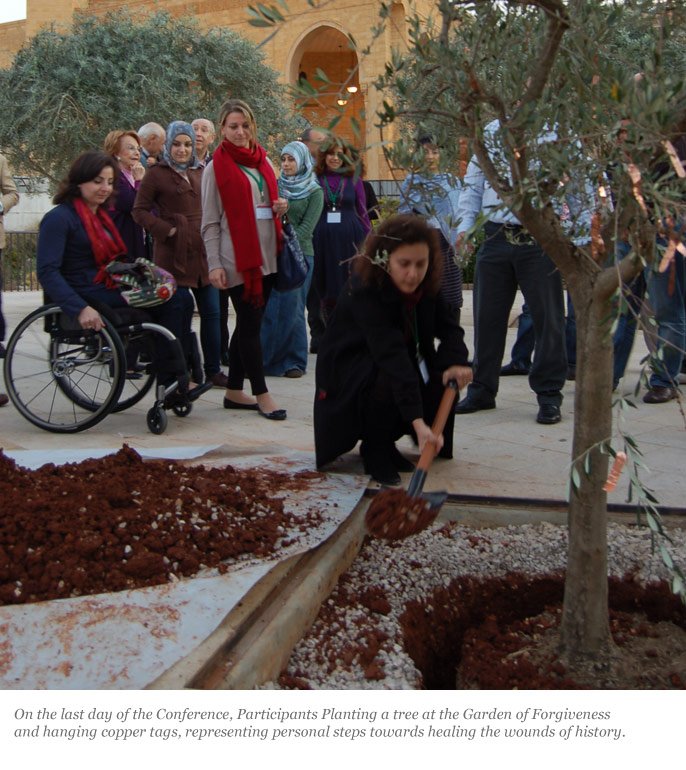 Building on the success of the Byblos conference, a three day workshop on "Constellation Therapy: A Systemic Approach to Healing Trans-generational Trauma" took place in Bssous, Lebanon on the 29, 30, 31 of March, 2012. The workshop was facilitated by Matthew Pruen and Gaye Donaldson.
For further information please contact Alexandra Asseily ([email protected])
Inspired by hearing of the success of the November 2011 HWH Conference in Lebanon, The Rwandan Government's NURC (National Unity and Reconciliation Commission) invited many members of the HWH team, including Alexandra Asseily of the CLS, to go to Kigali in June for another 3-day Conference Workshop.  This was  funded by the GHFP and several Rwandan Government agencies and Rwandan NGOs.
To find out more about this conference please visit the Healing The Wounds of History website.