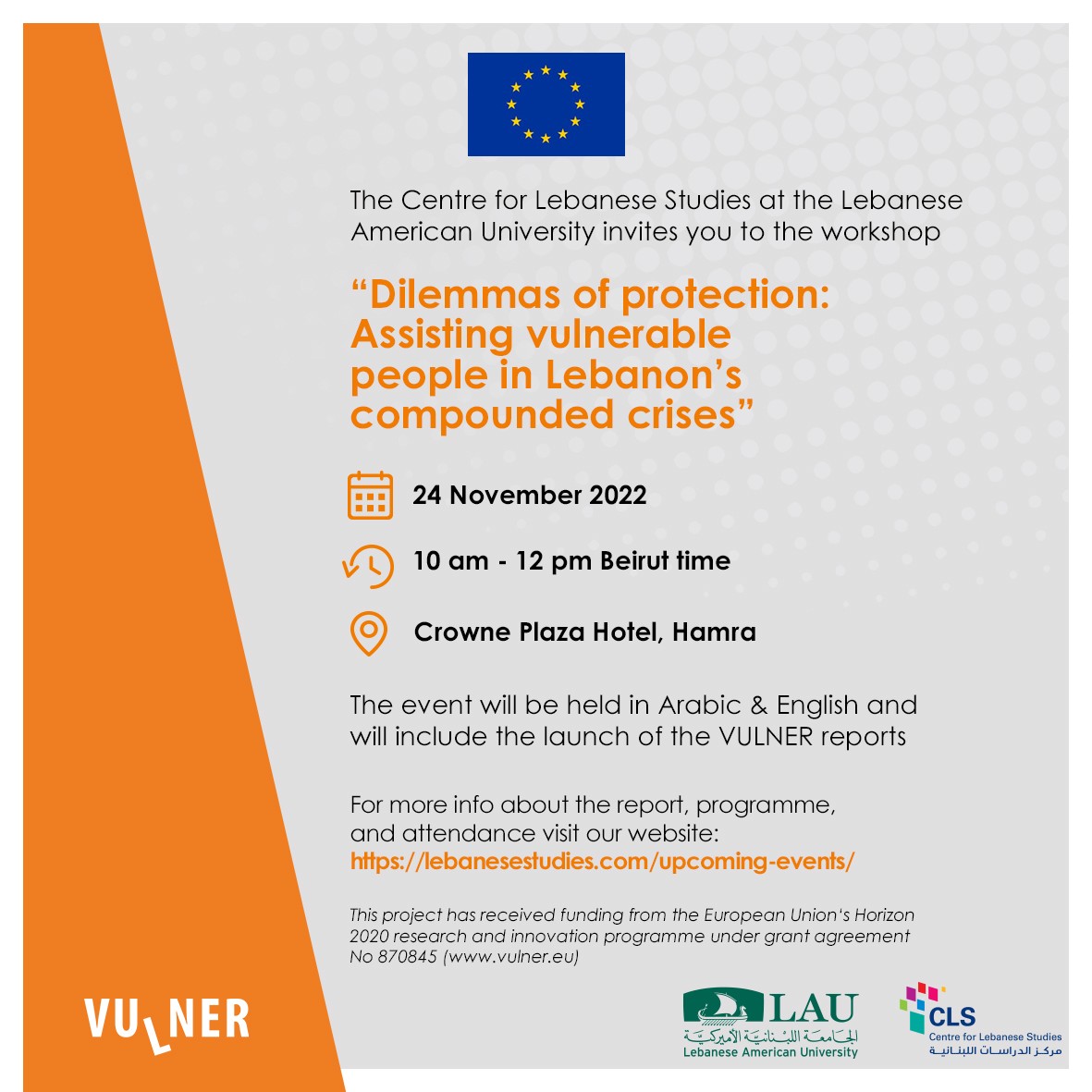 Dilemmas of protection: Assisting vulnerable people in Lebanon's compounded crises
The Centre for Lebanese Studies at the Lebanese American University invites you to the workshop:
"Dilemmas of protection: Assisting vulnerable people in Lebanon's compounded crises"
24 November 2022, 10 am- 12 pm Beirut time
at the Crowne Plaza, Hamra
The event will be held in English and Arabic and will include the launch of the VULNER reports.  
Please confirm your attendance by registering here
Speakers: 
Moderated by Prof. Cathrine Brun 
Dr. Ola Boutros: Lebanon's official approach to vulnerability 
Chaden El Daif: The Vulnerability in Lebanese Law & the protection it offers
Rasha Sankari: The local perspective on vulnerability  
Hajar Bou Chamoun: The humanitarian response to the vulnerability of the Lebanese and refugees
Maria Maalouf: The experience of vulnerability by refugees
Followed by a discussion and Q&A session
About the workshop
This seminar will disseminate the Lebanon case study in the EU's Horizon 2020 project titled Vulnerabilities Under the Global Protection. Invited speakers from various institutions will reflect on the meaning of vulnerability at different administrative levels.  We will unpack the current state of the response to the vulnerability of people in Lebanon in texts and on the ground and discuss ways to improve it. 
We will discuss the need for legal and social protection for different groups and situations in the country, and how the state, local authorities, civil society, and vulnerable people themselves approach vulnerability today: 
Who is vulnerable in Lebanon? 
How is vulnerability experienced?
Is it useful to talk about vulnerable groups in the context of Lebanon? 
How should we define categories of vulnerability? 
How is vulnerability reflected in Lebanese laws and policies, or how is it supposed to be?
How do municipalities and NGOs deal with the acute vulnerability they face in their areas of intervention?
How can vulnerability be addressed and mitigated at the national and local levels?
Research Background 
People in Lebanon have been affected in multiple and detrimental ways by a compounded crisis that left most residents with a limited capacity to cope with life's difficulties. 
Worldwide, countries and aid agencies have adopted assistance and protection mechanisms for different groups in society. These mechanisms often take categories of vulnerability as their starting point. 
Our research has shown that vulnerability is not a straightforward concept. Thus, while protecting vulnerable groups works well in well-functioning and evolving societies with institutions to serve the weak, it might not work in Lebanon, where the collapse has hit most of its residents hard. 
In Lebanon, some legal measures provide legal protection to people under direct threat, but there is no systematic way of protecting vulnerable residents. The Lebanon Crisis Response Plan offers socio-economic support for individuals, Lebanese, and refugees and has introduced the concept into Lebanese policies, but in an "unofficial" and uncoordinated manner. 
Lebanon's current social and financial crisis is an opportunity to have a profound and honest discussion on how it should build its protection regime to respond to its residents' legal and socio-economic conditions and needs. 
More info about VULNER, the previous reports, and activities on https://lebanesestudies.com/areas-of-research/vulner/ 
This project has received funding from the European Union's Horizon 2020 research and innovation programme under grant agreement No 870845 (www.vulner.eu)