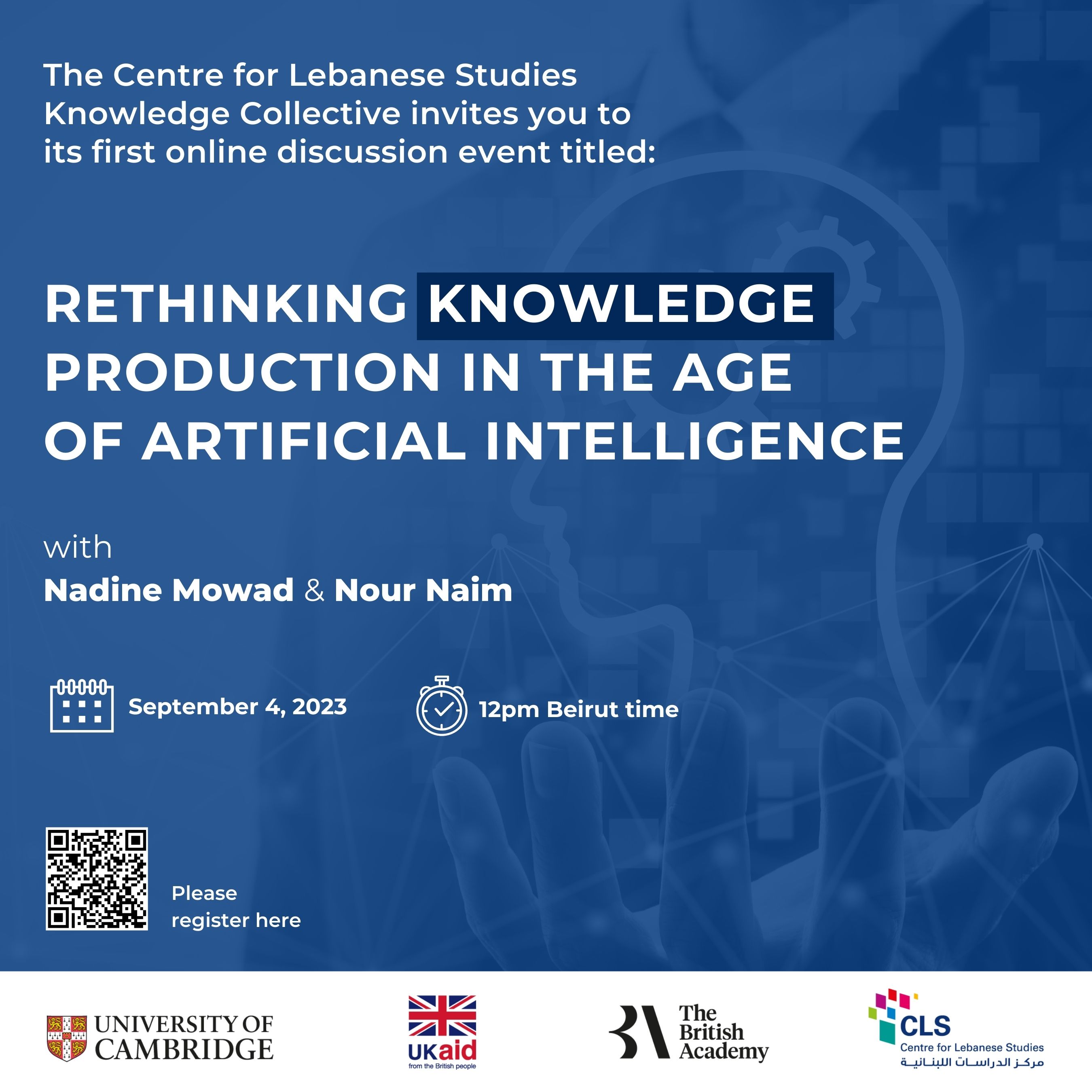 Rethinking knowledge production in the age of artificial intelligence
As part of its Knowledge Collective, the Centre for Lebanese Studies is hosting an online discussion on the role of artificial intelligence (AI) in producing knowledge and building solidarity movements amongst activist researchers and scholars from the SWANA region, titled:
"Rethinking knowledge production in the age of artificial intelligence"
September 4, 2023 at 12pm Beirut time
On Zoom (registration required)
Speakers:
Nadine Mowad: feminist activist from Beirut, working primarily on gender and sexuality and technology.
Nour Naim Founder and Director of AI Minds Academy, researcher interested in Artificial Intelligence (AI) ethics, AI for social good, algorithmic bias, computer vision.
Today, AI is the sacred grail of wealth accumulation and sociopolitical control in contemporary societies. Corporations and governments are using AI as a critical tool to enhance productivity and efficiency in all fields. However, using AI has proven potentially harmful, particularly for racialized women, non-binary people, and other vulnerable populations such as low-skilled workers, immigrants, and refugees.
The field of AI is also based in a handful of rich countries, widening the wealth gap between high-income economies in the Global North, which generate these technologies,  and low-income countries in the Global South that consume these technologies and provide the data that allows the field to thrive. As a result, this hegemonic sector accelerates and deepens systemic inequalities locally and globally.
Lastly,  In the age of surveillance capitalism and AI, lived experiences are becoming rendered as behavioral data combined with very sophisticated machine capabilities. This behavioral data is today the prediction product of what we, as "users", will do in the present, soon or in the future. It is, therefore, essential to deconstruct how the social processes of AI operate cognitively, emotionally and pragmatically in developing worldviews and ways of relating and conceiving social existence.
This session will discuss several questions:   
Why is it important today to question AI's governance and its role in producing a universal narrative and imagination of the future?
How can we challenge AI's hegemonic ethical, epistemological and ontological dimensions in behavioral data extraction and production of knowledge?
How can we, collectively, as researchers and scholars from the SWANA region, reveal and resist the harms caused to marginalized communities and people using AI technology?
Register on Zoom