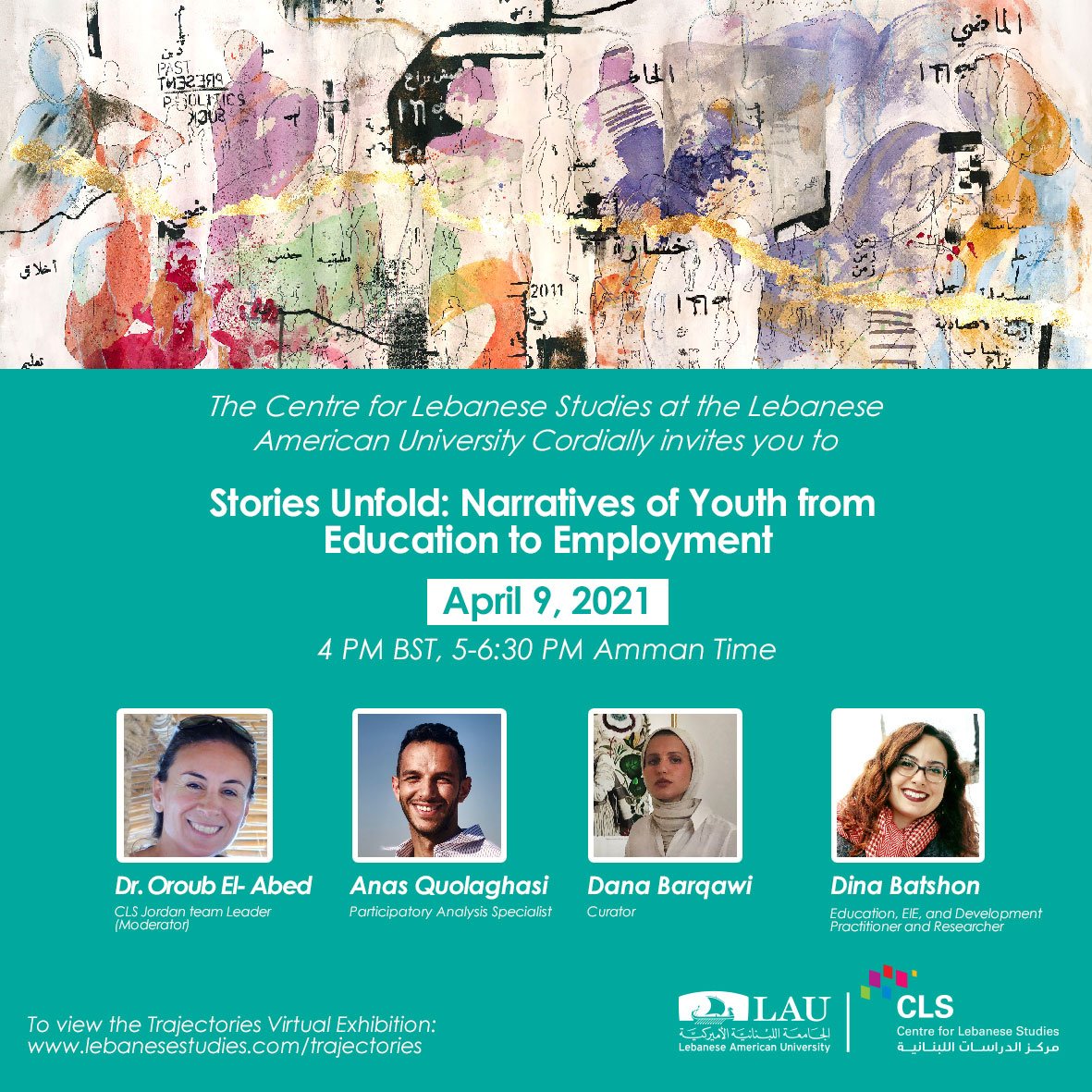 Stories Unfold: Narratives Of Youth From Education To Employment
On April 9, 2021, CLS hosted Stories Unfold: Narratives of Youth from Education to Employment. Dr. Oroub EL-Abed CLS Jordan Team Leader led the conversation with Education, EIE and Development Practitioner and Researcher Dina Batshon, Participatory Analysis Anas Quolaghasi, and Artist and Trajectories Curator Dana Barqawi.
Dr. Oroub EL-Abed
Oroub provided a summary about the research scheme that includes two teams working with disadvantaged youth, particularly refugees in Lebanon and Jordan. The research output has, in addition to the two-year academic report, participation in regional and international conferences, reaching out to decision-makers and refugee organizations, and curated artworks and experimental theater play and two film documentaries. Dr. El Abed provided a historical overview about refugees in Jordan, a comparison between their rights and that of Jordanian citizens, and the outcome of lessons learned from hosting the first wave of refugees from Iraq. She concluded that the Response Strategy implemented didn't improve the situation of refugees or disadvantaged Jordanian citizens. In addition to its academic value, the project looks to show the youth initiatives aimed to instill change, give them a sense of agency, and empower them to create change.
Dina Batshon
Dina introduced the methodology used to answer the question, 'In displacement settings, what shapes young people's life trajectories from education to employment and the meaning behind legal, social, gender, cultural, and economic factors? Data collection started with mapping across the Amman Governorate of all INGOs, NGOs, private sector, and youth initiatives. Data collection included surveys (about 700) and interviews (about 150) of youth and their families.
Anas Qolaghasi
Anas is a participatory Analyst who helped implement the method using this inclusive method first introduced by Robert Chambers and centered on involving the research subjects in the analysis. Anas explained that although a set of terms emerged among participants, no pattern could be identified, and experiences were varied and personal. He concluded by saying that every researcher should enter a new project with openness and flexibility.
Dana Barqawi
Dana explained how she helped the youth draw their River of Life. In her artist's role, she allowed them to illustrate their feelings, milestones following the river's flow through shapes, colors, and writings. River of Life uncovered varied reactions and experiences to the same events. The point, Dana concluded, was not to extract information but to share and compare experiences that are often personal and sensitive. Participants were given complete freedom about what they were willing to share.
The second part of the webinar was an interactive discussion between the panelists and the audience's questions. 
To watch the webinar click here
To view the Virtual Exhibition click here