Between 2016 and 2021, The Ministry of Education and Higher Education received $270 million for construction, renovation and expansion of public school buildings. Where did this money go?
On Wednesday 2 November 2022, in Al Kobbeh public high school in Tripoli, Maggy Mahmoud, a high school student, was killed after the ceiling of her classroom collapsed. Her classmate, Shatha Darwish, was injured.
The killing of Maggy Mahmoud came as a result of cumulative neglect by the Ministry of Education and Higher Education (MEHE) which allowed the operation of a school without ensuring that the premises met any security and safety standards.
This tragic incident raises questions about the root causes of mismanagement in this sector. Who is to blame for this situation? Is MEHE the sole responsible? Or is it the lack of financial resources aggravated by the economic crises that Lebanon is facing?
During the last few of years, MEHE received significant funding in the form of loans and grants. Part of this funding was reserved to the renovation of public schools.
In 2021, Reaching All Children with Education 2 (RACE 2) project came to an end. During the five-year period, that started in 2016, an envelope of $2.1 billion was given to Lebanon to finance important investments. It should be noted that the World Bank secured the majority of the funding – $1.8 million – while an additional $224 million were provided by other international donors. The project covered 4 main pillars:
Renovating and equipping public school premises
Learning, teaching, and training material
Transportation
Operational costs, such as paying salaries and advisers
RACE 2, funded by the World Bank and other international partners, aimed to finance renovations, maintenance, expansion, and major repairs of public-school premises. A total of $270 million was put forward: the World Bank provided $200 million and the remaining $70 million was provided by an IDA Reach TF-LCST loan.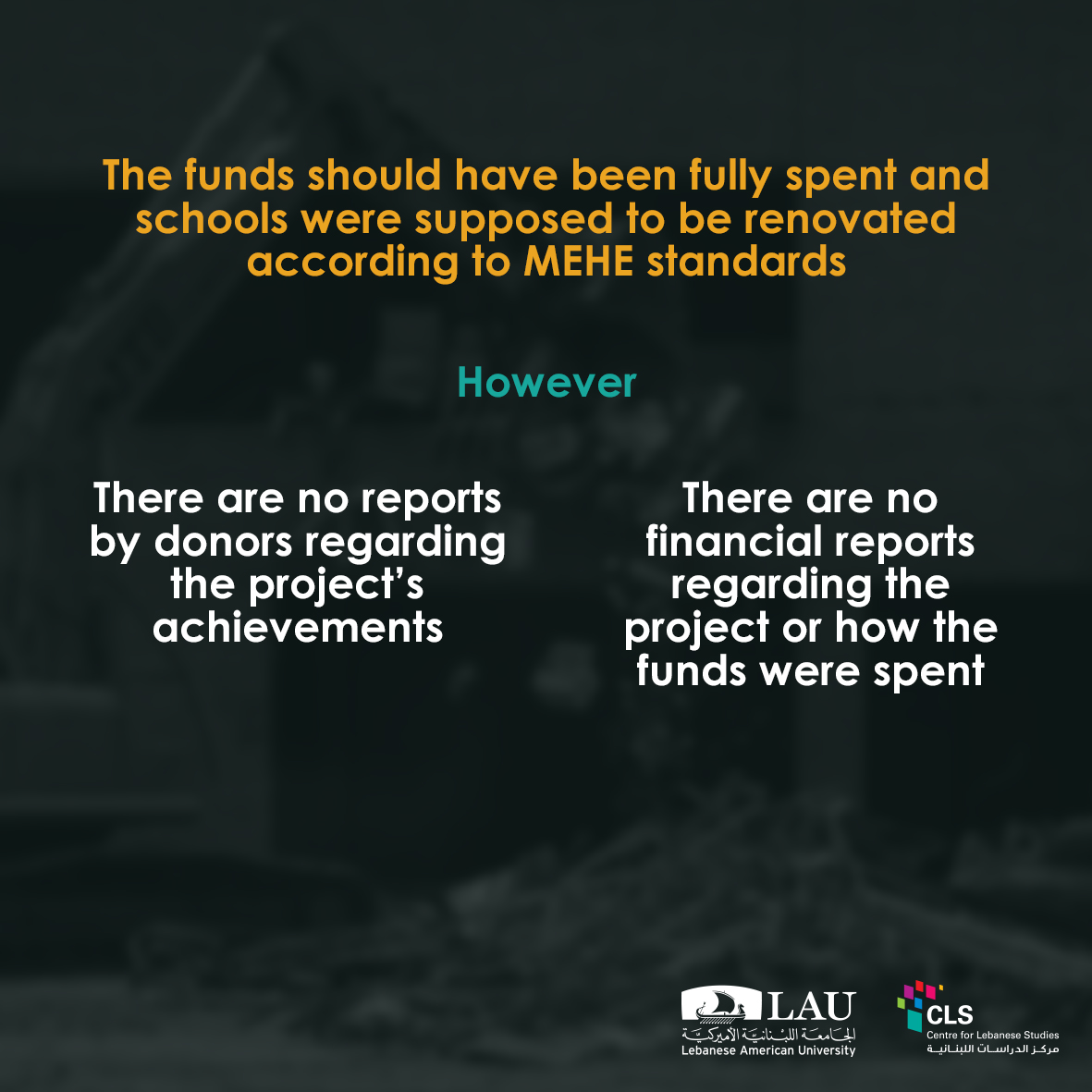 The World Bank expected from the Ministry of Education and Higher Education to spend the provided funding as follows:
$155 million on the renovation, maintenance, and expansion of 665 public schools and to increase the hosting capacities of public schools by 45,000 pupils.
The remaining funds were to be spent based on needs.
The funds should have been fully spent and schools were supposed to be renovated according to MEHE standards.
However, previsions do not match with reality. By the end of the project in 2021, no reports regarding the project's progress and implementation have been published. Moreover, financial reports regarding the project and how the reserved funds were spent cannot be obtained. Previously available information is no longer available. For example, numbers of Syrian pupils attending these schools used to be published online, but the page has since been down. Furthermore, donors did not issue any financial reports regarding the project's achievements.
According to the terms of the contract concluded between the World Bank and MEHE, the ministry is responsible for supervision, financial oversight, and accounting. MEHE's Program Management Unit is in charge of contract auditing and monitoring at the administrative level. It is also trusted with monitoring the scheduling, pricing, and quality of the work, accepting tenders and operating buildings that have been renovated according to its standards.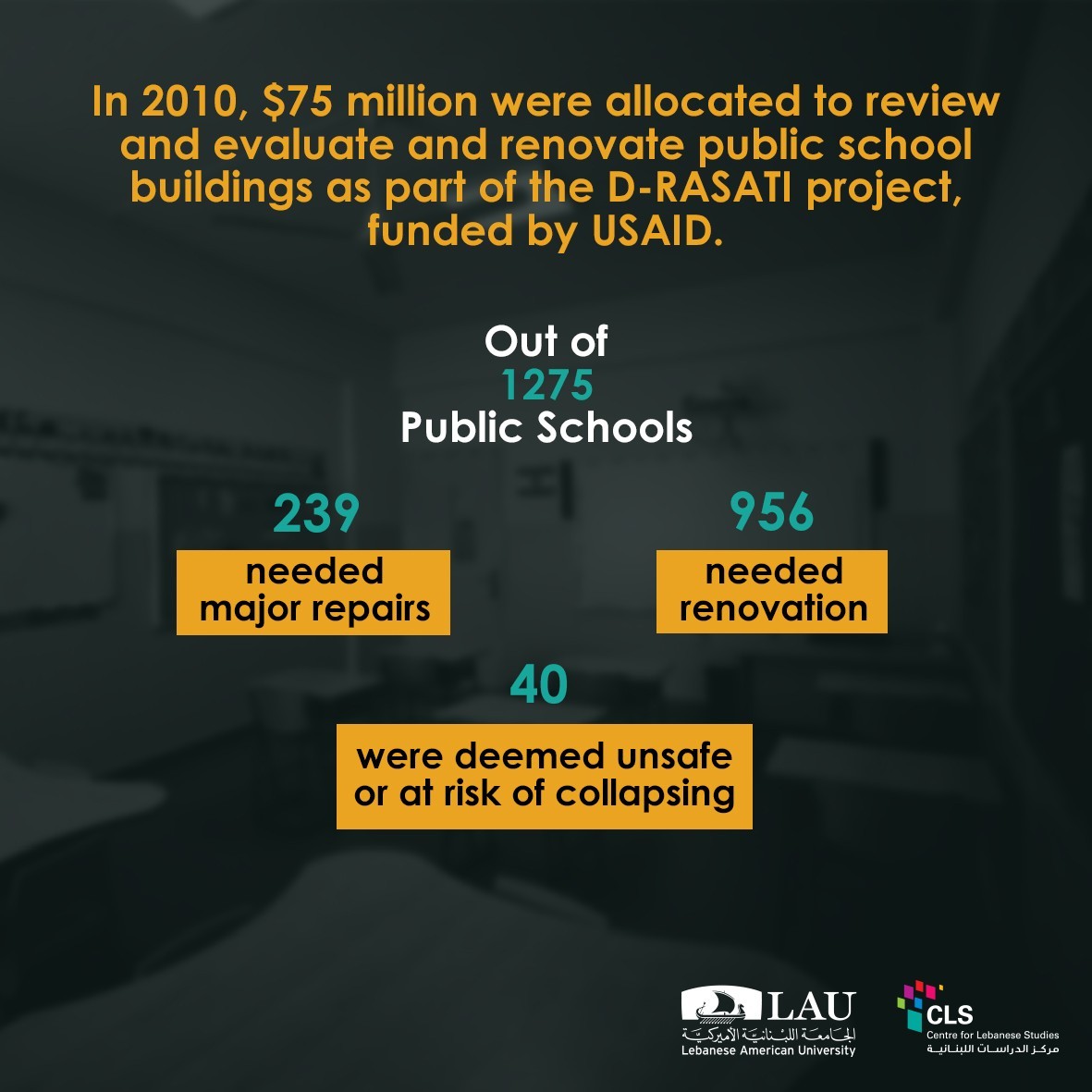 In 2010, USAID provided a $75 million grant to review and evaluate and renovate public-school buildings as part of the D-RASATI project. Based on the comprehensive survey carried out in 2011 as part of the World Bank Education Support project, and updated in 2014, out of the 1275 surveyed schools, 956 (75%) needed renovation, 239 (25%) needed major repairs and 40 were deemed unsafe or at risk of collapsing.
Moreover, the survey showed that public-schools in the North Governorate required more interventions than in other regions to ensure that these schools meet minimum standards of health and safety as well as other basic requirements. Indeed, 55% of surveyed schools are in a bad state or very bad state – 30% in a bad state and 25% in a very bad state. Furthermore, 40 school buildings out of 96 in Tripoli show fractures and cracks and are in a very bad state.
In order to prevent additional tragedies and provide a safe learning environment, MEHE must urgently publish a full and updated list of school buildings that are at risk of collapsing or show structural damage. Donors and MEHE must also publish detailed financial reports highlighting how the large sums of funding provided to the ministry have been spent in previous years.
For more studies on the state of education in Lebanon, please contact us or visit our website.